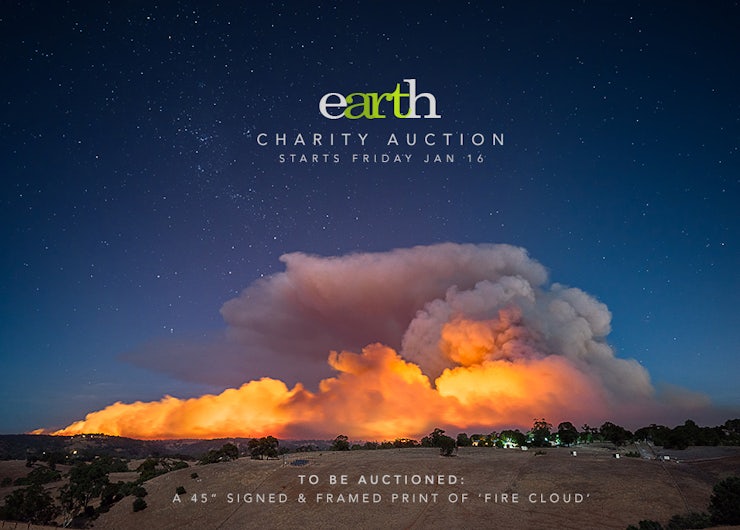 Recent Bids

Russell Botten - $5250
Colin Kuchel - $4500
Russell Botten - $4000
Colin Kuchel - $3500
Russell Botten - $3250
Colin Kuchel - $3000
Sandra Wilks - $2500
Belinda Wozniak - $1500
Denise McCormack - $1350
Brodie McLuckie - $1150
Belinda Wozniak - $1100
Denise McCormack - $1000
Belinda Wozniak - $800
Rachel & Jason Ryan - $750
Starting Price - $700


Background Information
After moving close to the Northern Adelaide Hills in the start of 2014, I spent countless days taking photos of the region - whether it be a foggy sunrise, a misty afternoon, autumn colours or an early summer lightning storm. In much the same way as Port Adelaide/Semaphore was to my photography for the previous few years, the Northern Hills had become my new homebase and inspiration for many of my favourite prints of 2014. About 10pm on Friday 2nd January I saw a few local friends on Facebook post that they could see a big orange cloud of smoke from a bushfire that had started earlier that day near One Tree Hill. That was all I needed to hear. It was with no hesitation that I grabbed my camera gear and drove 5 minutes to a vantage point where a few people were gathering and watching the fire cloud in the distance. I took a couple of long exposure photos before deciding to try Toolunga Rd, a dirt road where I had shot many times in the previous 12 months.
I found a spot about halfway down Toolunga that overlooked a valley with an unimpeded view of the raging fires in the distance. After spending a couple of minutes just watching the total scale and awe of what was in front of me, I set my tripod up and spent the next 30 minutes shooting a scene that will stay with me forever. At the same time as I shot this image there were countless firefighters and emergency personnel risking their lives to fight this inferno. My hat goes out to these people who work tirelessly to help save lives, homes and animals. We are all indebted to you!
As history would have it, one of the photos from that night would get shared all around the world and become one of the iconic images of the fires. I spent a bit of time thinking about what I could do with 'Fire Cloud' that would be appropriate in the situation. From the get go I had dismissed the idea of selling it as a standard print on my website - but I really wanted to do something with it. That's when I came up with the idea of auctioning off a framed and signed, 1/1 limited edition print and give 100% of the sale price (minus cost of production) to the CFS, a volunteer fire fighting organisation that do an amazing job.

So what exactly is up for auction?
A signed 45" double framed print of 'Fire Cloud' with museum quality non reflective glass. It is limited edition 1 of 1 and is without doubt the most valuable print I have ever produced. This image will never be available as a print again - the lucky winner will have themselves a unique piece of South Australian history.

How will the online auction work?
The online auction will start on Friday January 16th at around midday and go until Friday January 30th at 12.30pm. The framed print will be on show at the Inglewood Inn during the entirety of the auction. To submit a bid a person must email their name, phone number and bid price to ben@kwestdigital.com.au. I will update this page with the highest bidder, so make sure to keep checking back!